Ghent University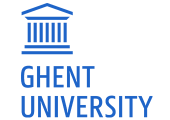 Ghent University is represented in DARIAH-BE by the Ghent Centre for Digital Humanities, an inter-disciplinary research centre facilitating digitally-enabled research in the arts and humanities at Ghent University and beyond. The Ghent CDH engages in the field of 'Digital Humanities' at Ghent University, ranging from archaeology and geography to linguistics and cultural studies. It develops DH collaboration and supports research projects, teaching activities and infrastructure projects across the faculties. The centre also coordinates the activities of DARIAH-BE in Flanders (DARIAH-VL). One of the directors of the Ghent CDH, prof. Christophe Verbruggen, is also the the Coordinator of DARIAH-VL and the National DARIAH-BE Coordinator. 
The core areas of the Ghent CDH's work are: 
Collaborative databases: offering advice and support for collaborative databases at Ghent University. It helps researchers to develop a database instance, powered by e.g. Nodegoat. It provides advice regarding data standards and linked data.

Digital text analysis: aiming to improve digital text analysis at Ghent University by offering support and information to researchers. 

Geo-spatial analysis: offering advice, support and training regarding geo-spatial data management, analysis and visualisation to the humanities and social sciences researchers at the Ghent University.

DH advice: offers advice and guidance throughout the research project lifecycle where digital tools, methods or collections are used. For the research data management and training, the Centre works closely with the Library Lab of the Faculty of Arts and Philosophy Library.